Current and upcoming Brixton House events
non zero one and Brixton House present:
ON THESE STREETS
Venue:

The streets of Brixton


Date/Time:

Friday 27th August – Thursday 30th September. You can take part any time between 10am and 10pm on your chosen day.


Tickets:

FREE (must be booked online)
About
In April 1981, the streets of Brixton became the heart of an Uprising. 40 years later, these streets have much to tell us, with voices that still need to be heard. ON THESE STREETS is a free, interactive audio experience by non zero one through the streets of Brixton that invites you to witness, interact, and respond to the voices, stories, and legacy of the Uprising.
Writer Somalia Nonyé Seaton and sound artist XANA weave fiction with verbatim testimony, all set within an immersive audio world of sound clash culture with the dutch pot pressure of dub music boiling over into the streets.
As Brixton changes, the forces behind the 1981 Uprising grow louder for a legacy that must be heard.
ON THESE STREETS is part of 81 Acts of Exuberant Defiance,
a radical reclaiming of heritage – to imagine, experiment and create new futures.
How to book
It's free to take part but you will need to book in advance. We will email you the link and instructions for ON THESE STREETS a couple of days before your performance date. You won't need to download or install any software, just bring a smart device with web access (you may be charged for data use if it isn't included in your mobile plan.) You can take part any time between 10am and 10pm on your chosen day.
---
Participants taking part
---
Responses
The audio is powerful, soulful and political – concerned with presenting Brixton's history, yet building a positive future.

Theatre Full Stop
The events of 10 April 1981 are part of Brixton's history. Listen to the people who were there to understand better how it came about, how it felt and what it meant.

Brixton Blog
Powerful and written beautifully… Get yourself down to Brixton and walk and listen.

Participant
Informative, engaging, personal.

Participant
I enjoy walking and tours like this, so this was a great way of experiencing Brixton's history. I liked that Brixton locals were able to talk about their own accounts of the local area as this offered an authentic perspective.

Participant
---
How to take part
ON THESE STREETS takes place on the streets of Brixton. It's a free audio experience that you stream directly from your phone or device (iPhone, Android, tablet, notepad, Chromebook etc) as you walk around Brixton. We expect it to take around an hour and a half to complete.
Over the course of 60-90 minutes you will journey to 6 different locations in Brixton and experience a story interwoven with words from verbatim testimony of the Brixton Uprising.
At points you will be asked direct questions and respond in your own unique ways.
The audio journey is designed as a solo experience, but you can go with friends and press start together. We recommend that you use headphones to experience ON THESE STREETS to its full potential.
---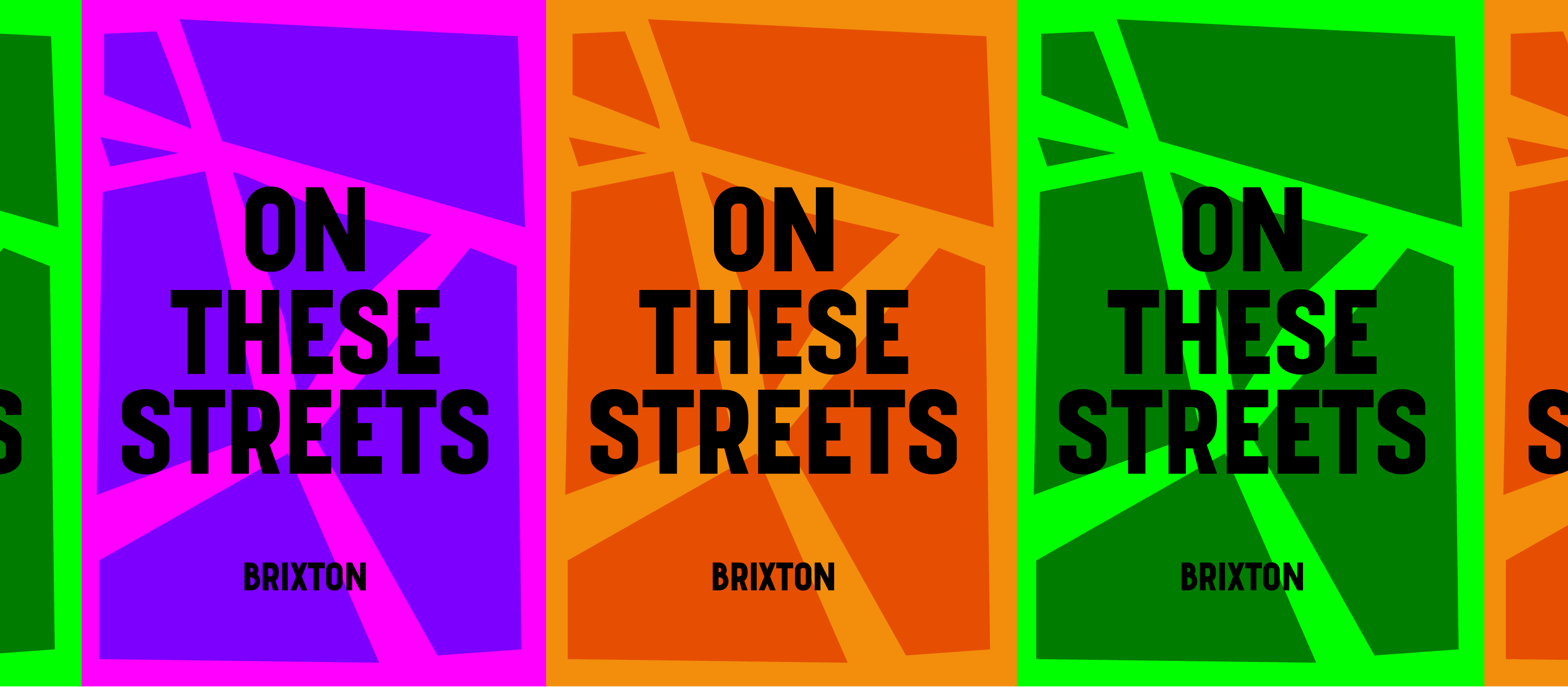 ---
Credits
Concept and interactive experience by non zero one, commissioned by Brixton House.
Written by Somalia Nonyé Seaton with verbatim words from first hand experiences of the Uprising
Sound Artist: XANA
App Developer: All Seeing Eye
Researcher and Script Assistant: Aliyah Hasinah
Project Producer: Tobi Kyeremateng
ON THESE STREETS is supported by an Arts Council England Project Grant.
Find out more about non zero one here.
Trigger warning: ON THESE STREETS contains verbatim accounts of real events and experiences that include references to racism, discrimination and oppression.
---
No smart device?
On the following dates there will be a welcome desk at Carlton Mansions on Coldharbour Lane (next to Brixton House) where you will be able to borrow a phone or tablet and headphones to take part in ON THESE STREETS. You can arrive any time during the first two hours of the time slot, devices must be returned by the end of the session. You will need to leave a debit card or form of photographic ID with our staff as a deposit while you have the device.
Please only use the booking link below for these sessions – You will not be able to borrow a device at any other time.
Wednesday 1st September (3-6pm)
Saturday 4th September (12-3pm)
Saturday 11th September (12-3pm)
Wednesday 15th September (3-6pm)
Saturday 25th September (12-3pm)
Wednesday 29th September (3-6pm)
---
Accessible sessions
We are working on creating a captioned version of the audio app, and to facilitate accompanied sessions for anyone who is unable to participate independently. If you're interested in either of these, or would need to be supported in another way to access this experience, please let us know using the button below. You can also use this link to request a transcript of ON THESE STREETS.
---
FAQs
What do I need to experience ON THESE STREETS?
After booking your ticket you will be sent a website link, which you will need a smartphone or tablet to access at the start point. Please make sure your device is fully charged and able to use 4G connection. ON THESE STREETS has a pretty epic soundscape designed by XANA, so we recommend listening on a headset for the best experience.
ON THESE STREETS takes place outside, so please prepare yourself for whatever the weather.
When will I receive the URL link?
Once you have booked you will receive an immediate confirmation. YOU DO NOT NEED A TICKET. You will then be sent the link for the ON THESE STREETS web app a couple of days before your performance date and you can take part any time between 10am-10pm that day.
Does it cost anything to experience ON THESE STREETS?
No! It is free but booking is essential. You may be charged for data use if it isn't included in your plan or contract (you will have the option to download audio files on your home Wi-Fi before leaving for ON THESE STREETS).
How long does ON THESE STREETS take?
ON THESE STREETS is designed to last between 60 and 90 minutes, including a short walk between 6 different locations starting from Brixton Tube Station. The total walking distance is around 2.5 miles/4km, allowing for an average walking/travelling speed of 3.5mph and the time spent at each location. It is up to 10,000 steps around residential and commercial areas of Brixton.
How accessible is ON THESE STREETS?
ON THESE STREETS can be experienced at your own pace, you're welcome to take a break at any point during the experience. The suggested route between the 6 different locations is accessible to people using wheelchairs or prams. Transcripts of ON THESE STREETS can be made available upon request – please email us at hello@brixtonhouse.co.uk.
What was the Brixton Uprising?
"In April 1981 Black Communities in Brixton rose up in bloody confrontation with the Met Police against a backdrop of racism, severe economic recession and high unemployment. A year before, Bristol has seen similar uprisings and the summer of '81 saw further serious uprisings in Liverpool, Birmingham, Leeds and Manchester. It was a critical moment in the movement for social justice in Britain, leading to landmark recommendations for police reform and local regeneration policies."
[FROM: 81 ACTS OF EXUBERANT DEFIANCE]
Can I take part in ON THESE STREETS if I can't get to Brixton?
ON THESE STREETS is a site-specific audio experience for Brixton, and references 6 specific locations in Brixton where you will listen to different chapters of the work. Although technically it's possible to listen to ON THESE STREETS remotely, it won't make as much sense or be as powerful without being in Brixton.
Who can I get in touch with if I want to talk to someone about ON THESE STREETS?
Drop us a line at hello@brixtonhouse.co.uk with any further questions.
Follow for more:
non zero one | Somalia Nonyé Seaton | XANA | Aliyah Hasinah | Tobi Kyeremateng | All Seeing Eye