The roots of the project are long, deep and wide-ranging, and we have enjoyed the contributions of many partners: children and young people, artists, schools and agencies.
Demonstrate! is Brixton Houses' FREE, dance-led multi-arts project run in partnership with Corali Dance Company. Aimed at 8–14-year-olds from the Lambeth community with autism, learning disabilities and complex physical needs.
Under the Learning & Participation department, Demonstrate! is a foundation for creative young voices to be welcomed and inspired by a team of artists and facilitators with and without a learning disability. Discovering new skills and making independent, artistic choices, Demonstrate! encourages and highlights freedom of expression, which the team supports and the project nurtures. There is a clear blend of artistry and empowerment that flows organically in the space.
Now in its 11th year, in addition to dance, we have also explored drama, music-making, puppetry, circus, visual arts and 3D animation. We are open to new ideas and possibilities, developing the next generation of dancers and artists.
The programme runs for 20 days over the year, during half terms and the summer holidays. 5-day intensive workshops with a final sharing for families and friends, carers and support workers.
The project is funded by the London Borough of Lambeth as part of their short breaks programme for families with children and young people with SEND.
2023 Dates
October Half Term
23-27 October 2023
2024 Dates
February
12-16 February 2024
Details
Session times:
FREE return transportation
Collection times between 10.00am- 11.00am  
Drop off times between 14.00pm- 15.00pm  
Times tbc week before project starts depending on young person and location 
A light, healthy refreshment is provided daily.
Where
Brixton House Theatre- Theatre 2
385 Coldharbour Lane, Brixton, SW9 8GL
Contact
To find out more about taking part in future sessions, please contact Nicola or Sarah on:
[email protected] | 020 7091 7113
---
Project Outcomes
Socialise, build and develop friendship:
Our activities focus on widening the opportunity for young people to develop social skills by mixing together in session groups having a wide diversity of participants. Demonstrate! is all about integration meaning that siblings are welcomed too!
Participate and take part in activities:
Participatory Art is at the heart of Demonstrate! where young people work with professional artists on individually tailored activities, making multimedia art work and weaving it all together into a final performance.
Fulfil their learning potential:
Learning is often a social experience and the progress created through group activities also reinforce young people's learning development – for example, through mutual support in completing tasks and by sharing knowledge.
Enable children to be more independent:
Demonstrate! enables children to achieve greater independence by focusing on their abilities rather than their disabilities
Feel Valued, be involved and motivated:
Everyone's contribution is valued; each child or young person is unique and may need different support in order to participate. Every programme ends with a sharing for an invited audience of parents, carers, friends and family to recognise the value of their work.
---
Gallery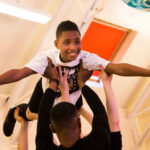 Testimonials
My daughter wants to come! She gets up and ready with no fuss, usually she drags her feet getting ready for school – you don't know how much that shows me she wants to be there!

Parent Feedback, 2011
He loves it – he enjoys the social opportunity to mix with other children and to have independence from us which is important. As a non-verbal child he needs to work out how to communicate with others and Demonstrate provides a safe environment.

Parent Feedback, 2019
It's also remarkable that he is capable of going on his own (he's picked up by the bus) and spending hours away from home with people he didn't know at all when he started. That was a big achievement and now it's easier for him taking part in big group activities.

Parent Feedback, 2015